Watershed One Demonstration House - Preparations for Suspended Slabs
After we finished laying the rammed earth blocks for the garage and mechanical room, we had a chance to use up about a hundred yards of cracked rock we had been storing on the bedroom slab. Edward screened it into two different sizes (1-1/2" x 4" and 3/4" x 1-1/2"). We used the larger rock behind the walls as free draining backfill and the smaller rock as drainage under the floor slabs. Clearing off the bedroom slab meant we could start on the foundation for that wing.
Before we did that, however, it seemed efficient to build the shotcrete wall that the civil engineer had requested as a water diversion. This project had several phases: we first used a low strength pise to true up the rough cut bank, then set an upper form, hung Miradrain off the form, laid a 4" perforated pipe at the bottom, tied a reinforcing mat of #5's at 16" for foundation and wall steel, shot 8" of gunite directly against the Miradrain, then finished the wall with a 2" pise veneer. Here's a photo of shooting the gunite.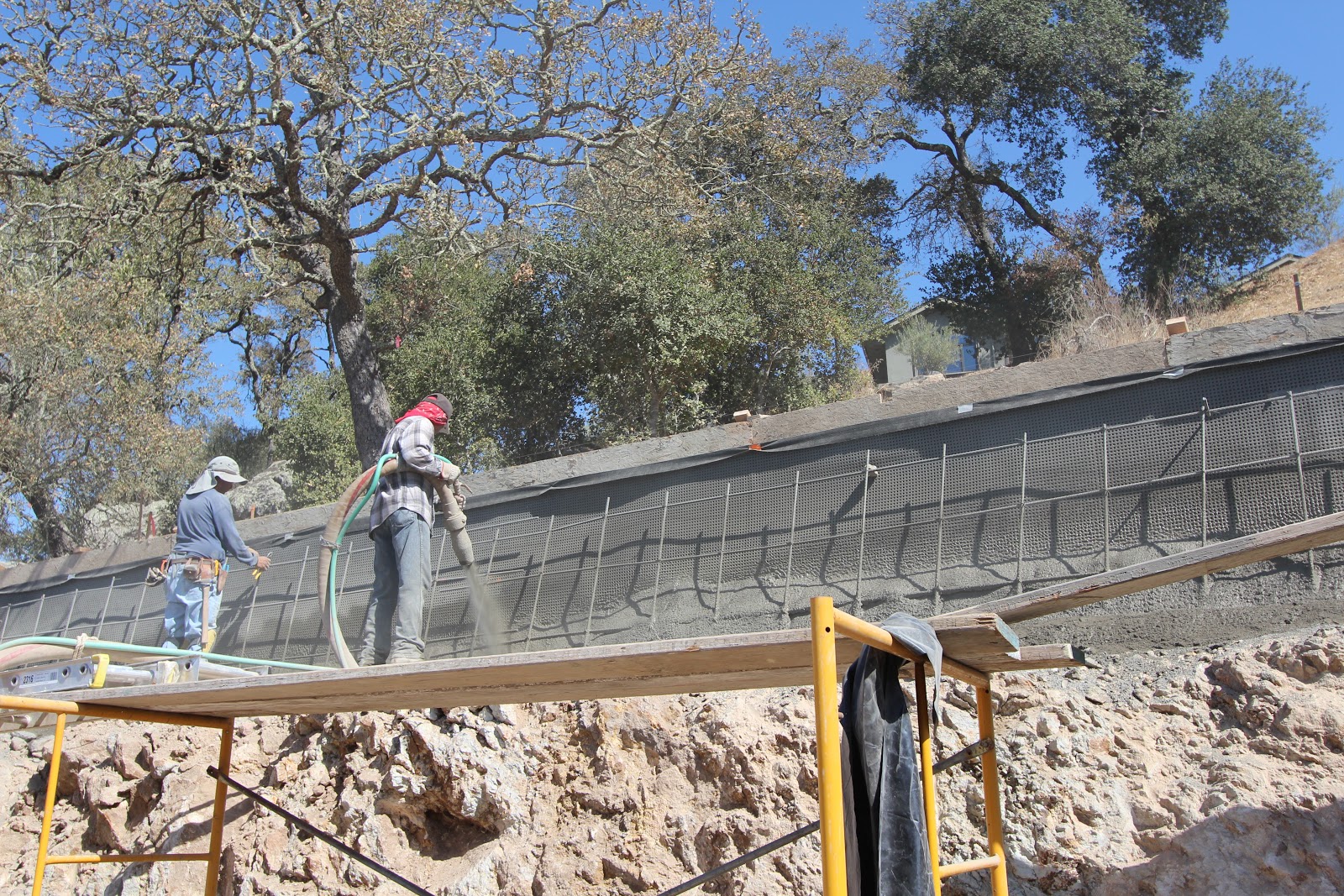 Once we had this retaining wall out of the way, we had room to work on the bedroom foundations. Since the original survey on the side hill didn't give the excavator clear enough lines on how far back to cut into the hill, we had to make a few adjustments to the rock bank, which we did with a breaker on the bobcat. We also lowered the footings 8" into the rock pad to give us clearance for drain rock and under slab plumbing. I'll include a couple photos of breaking up the rock and the footings formed with steel tied and dowels for the block walls.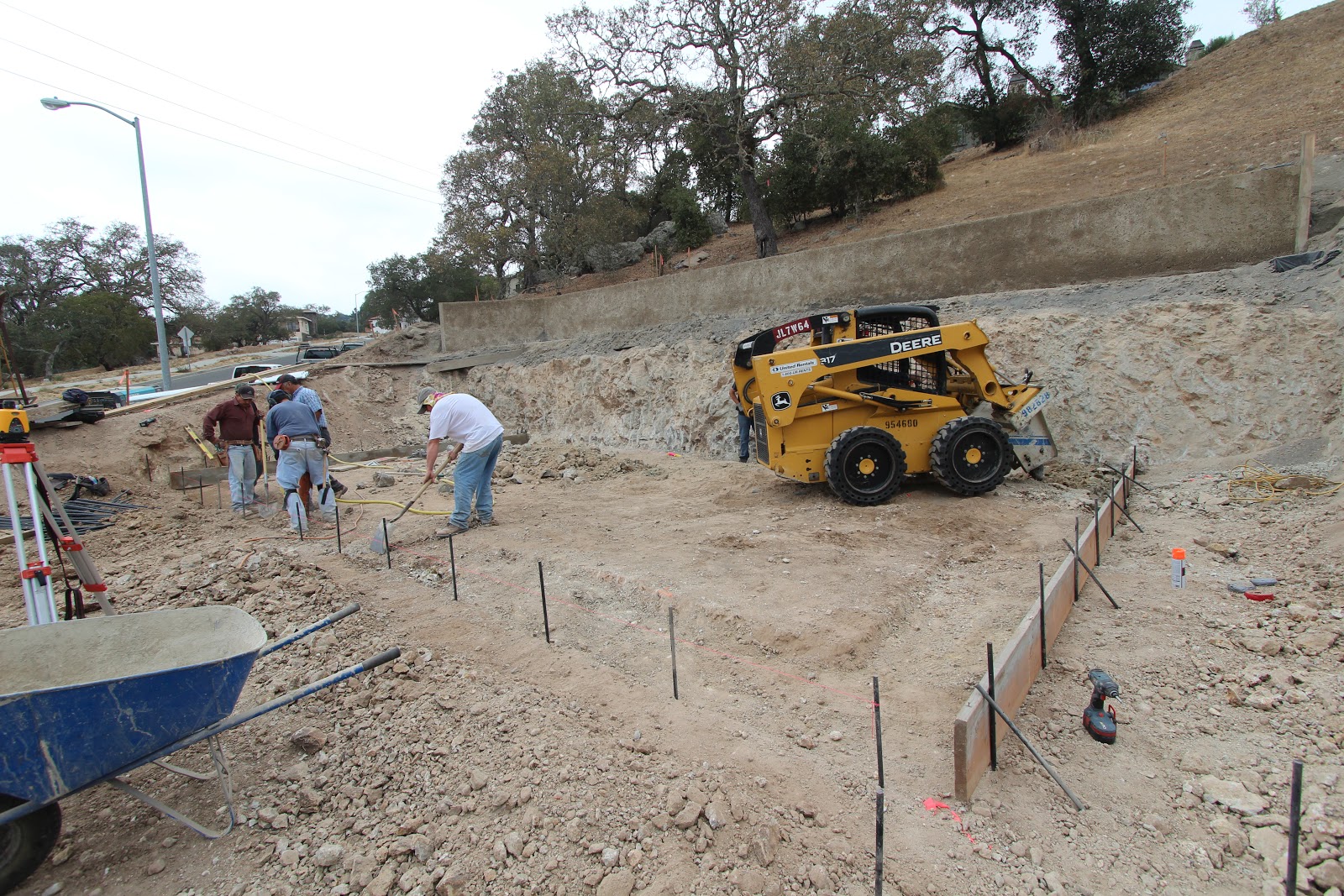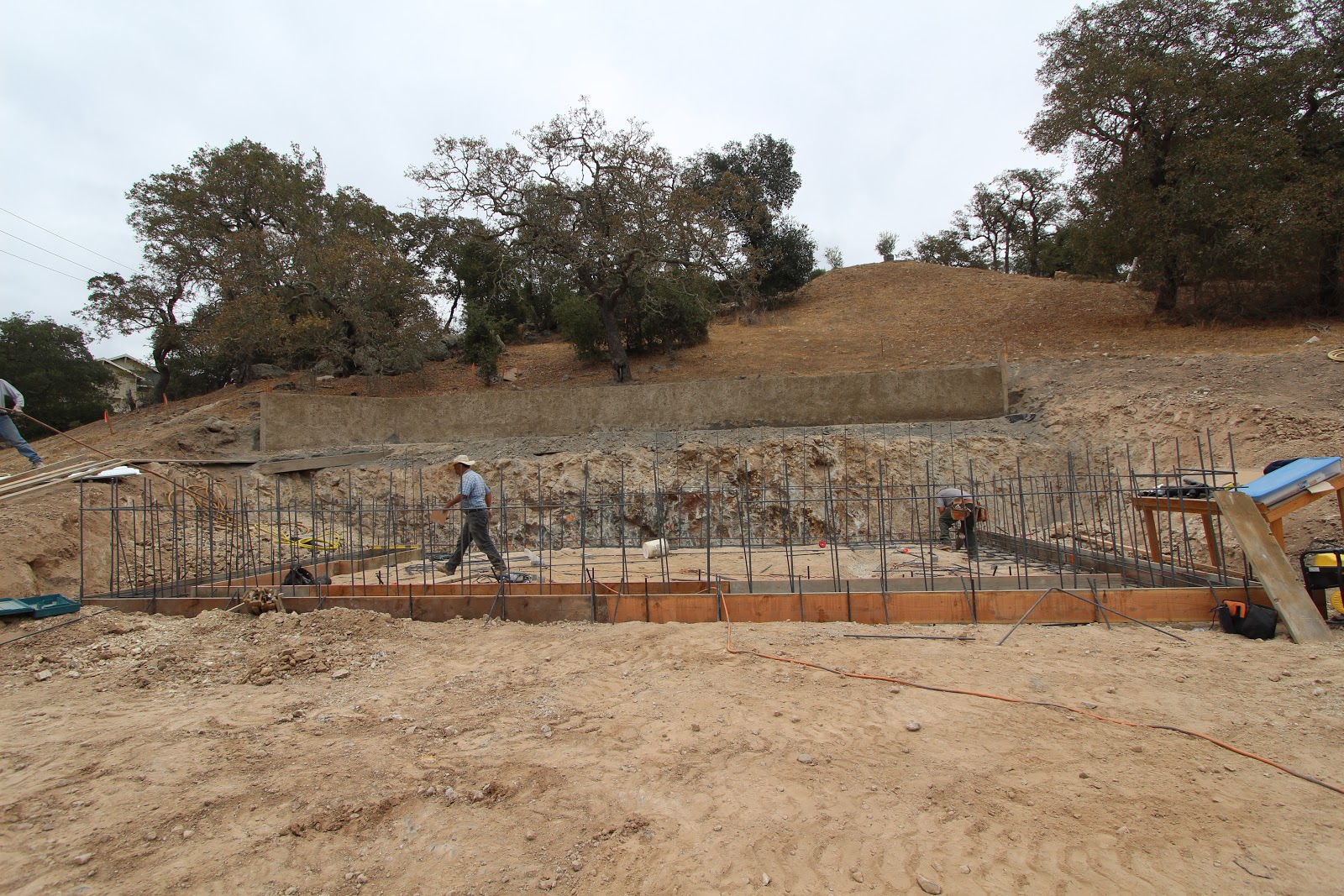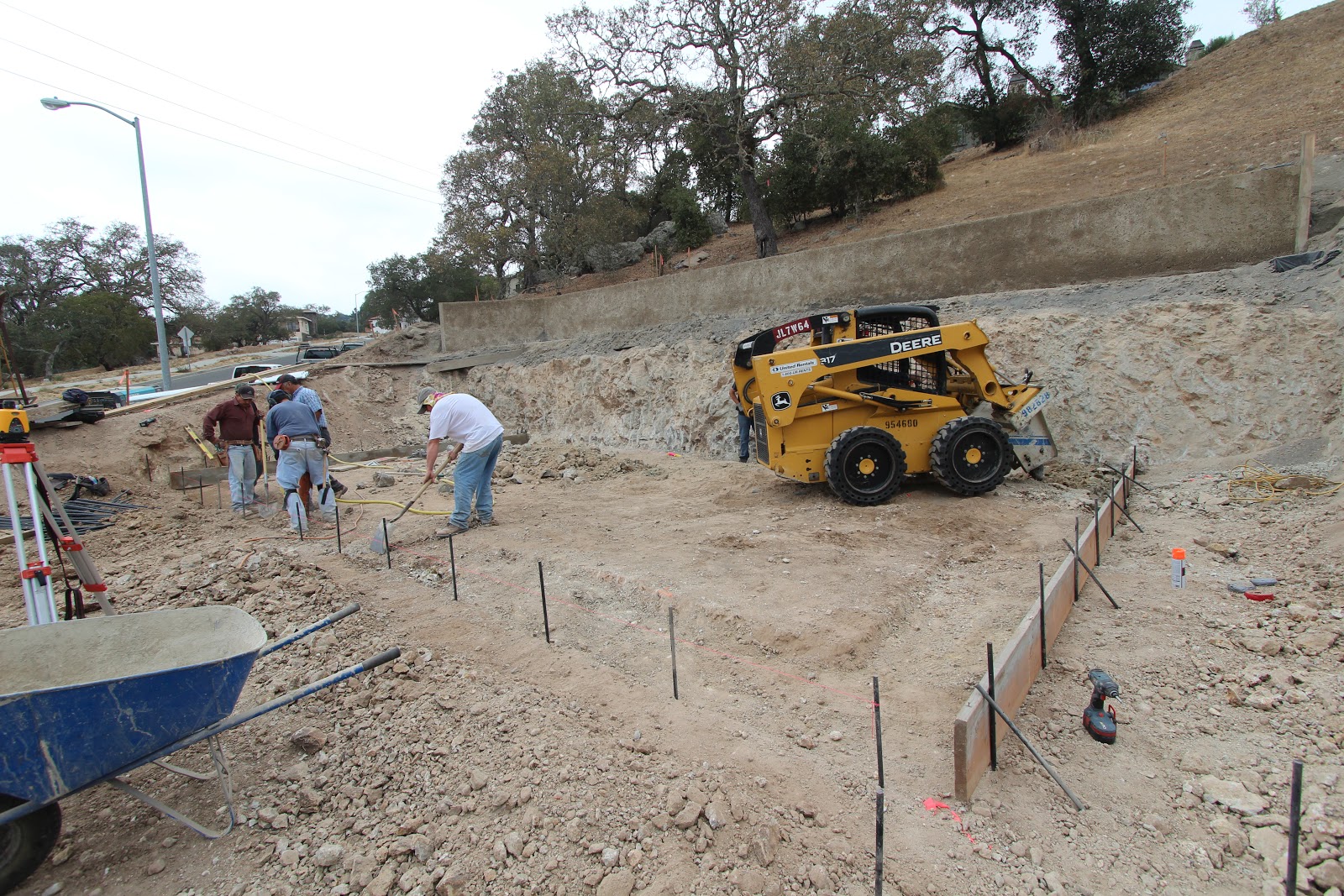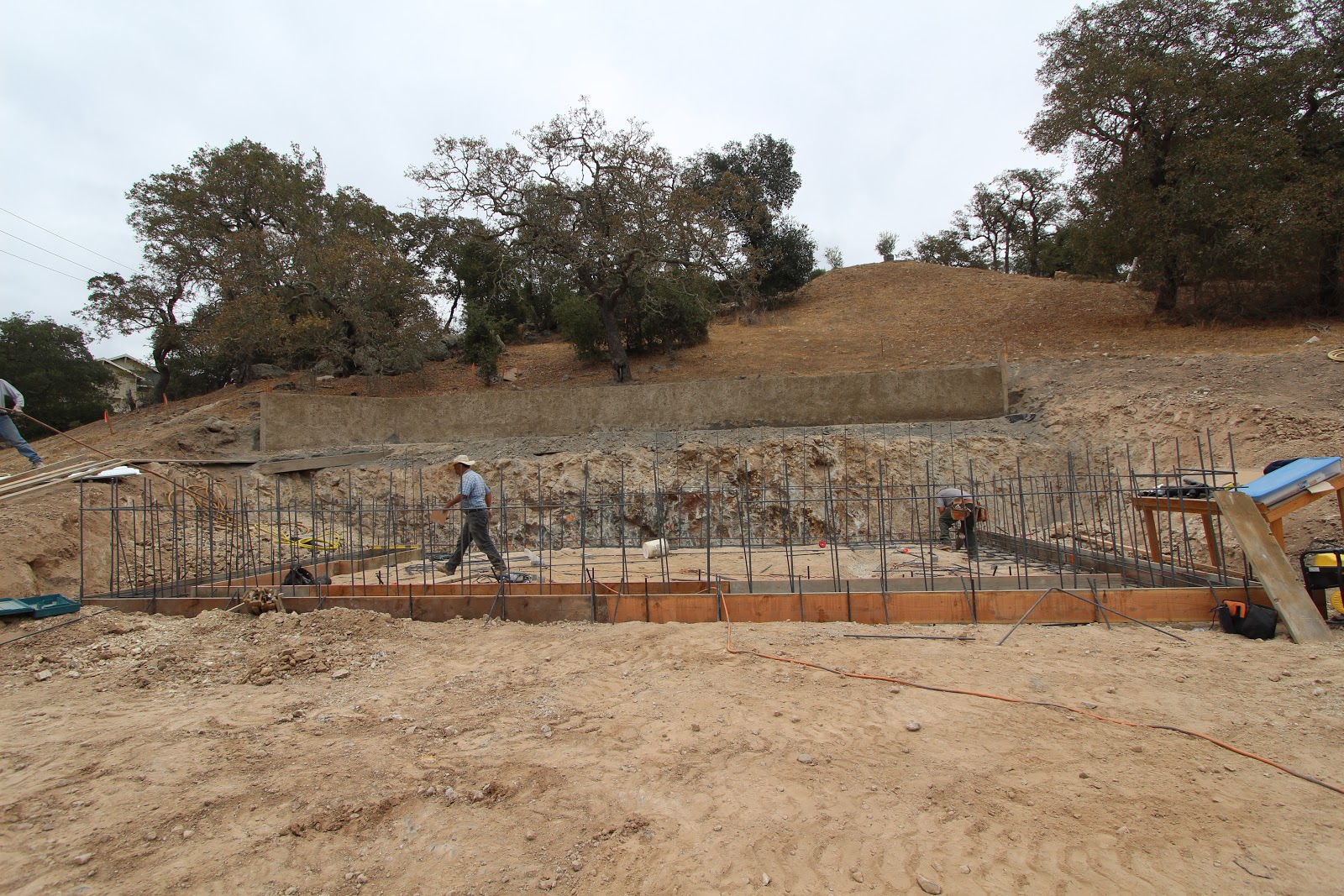 While Rigo and his crew were getting the foundation prepped, Khyber, Edward, and Gabe were setting the steel beams and the pan decking for the suspended slab above the garage. The beams are a W10 x 33 (a wide flange 10" deep that weighs 33 pounds per linear foot), spaced at 10-foot centers. The pan deck is 18 gauge W3 formlock by Verco. It can span the 10 feet between beams without shoring. The concrete slab over the pan deck is tied to the walls with #4 hooks at 16". Slab reinforcing is 6x6x1.9 mesh with two additional #5's as perimeter reinforcing. Cindy and I went out this morning to paint the layout for the hydronic radiant tubing, which we will install and pressure test tomorrow before the pour on Tuesday.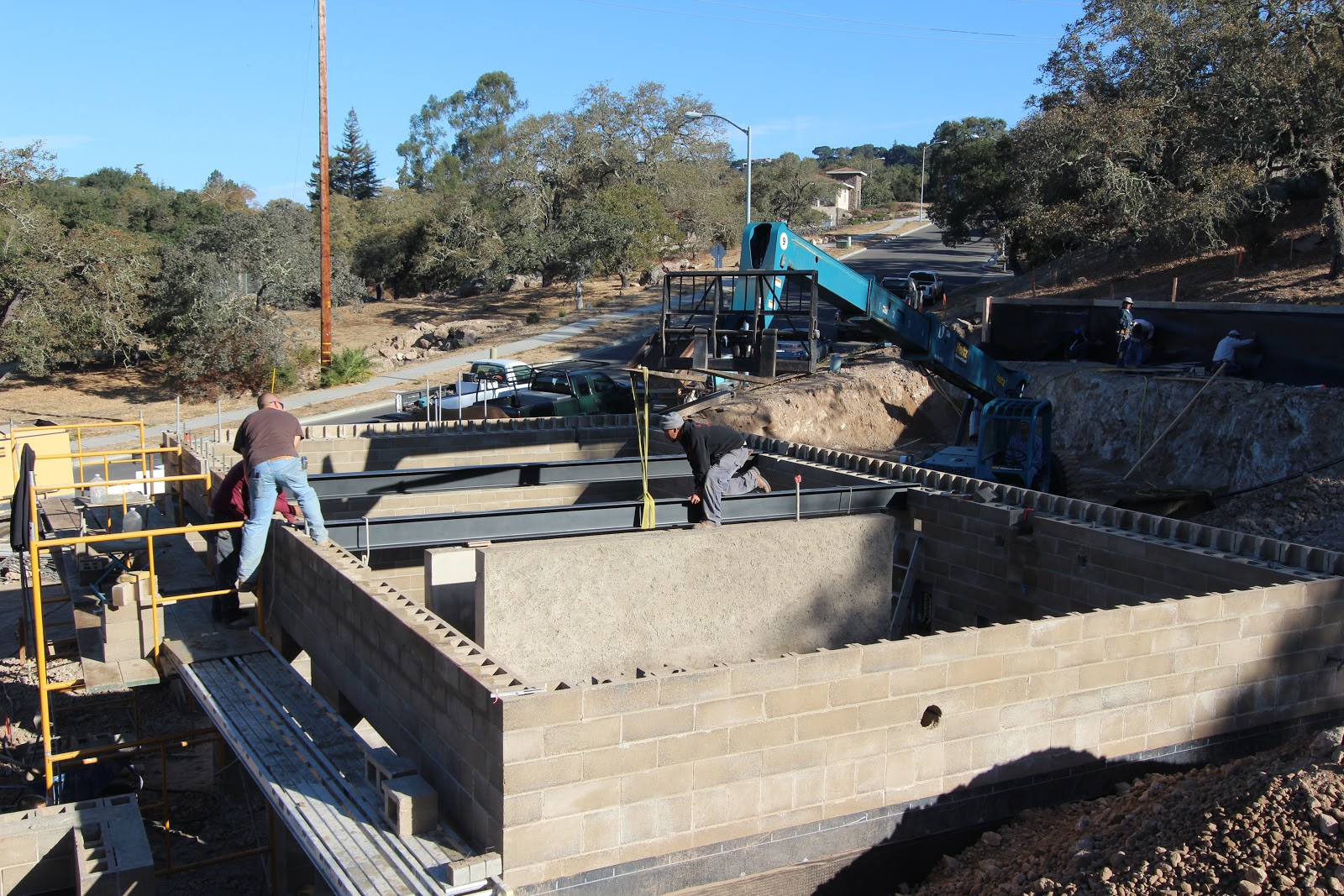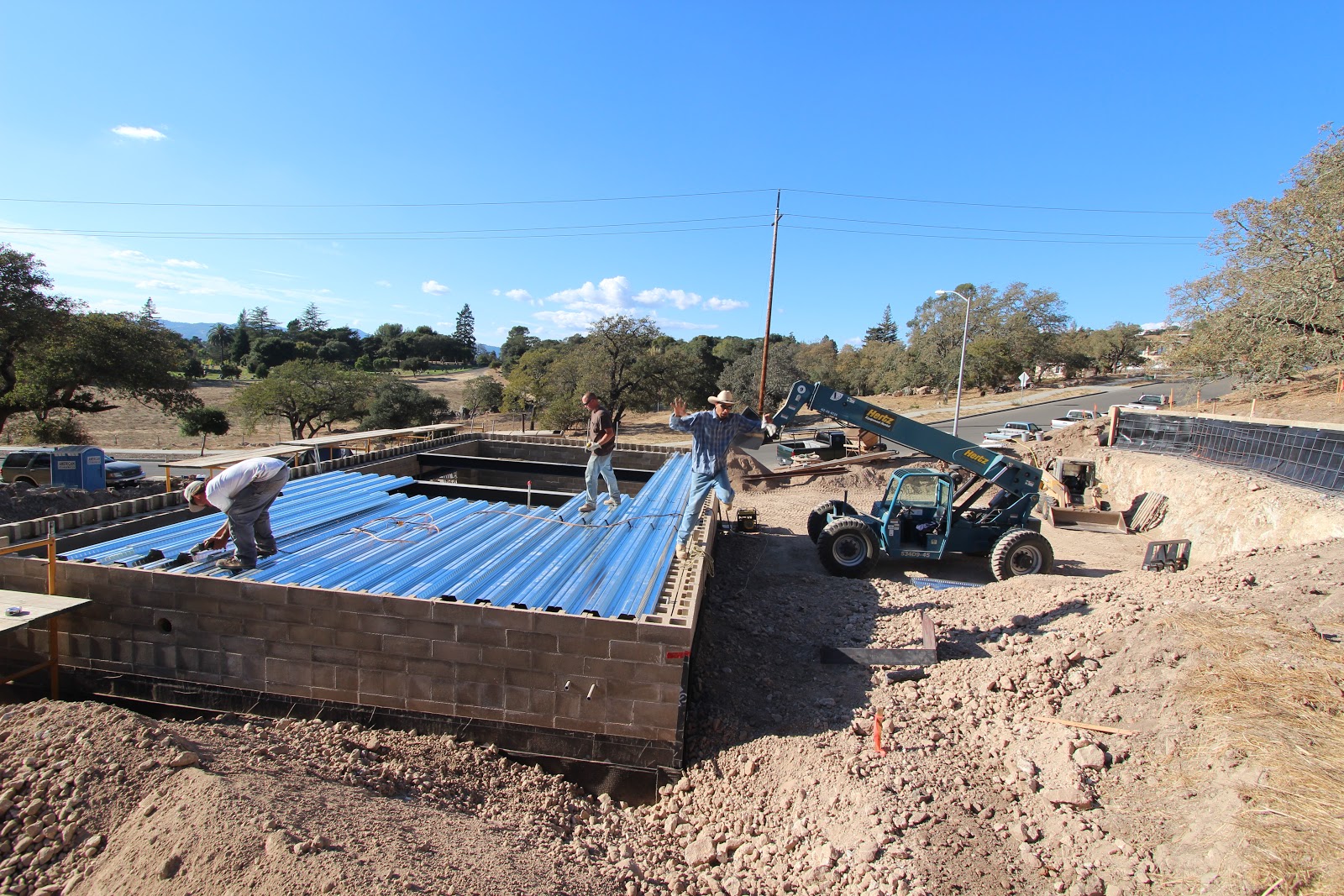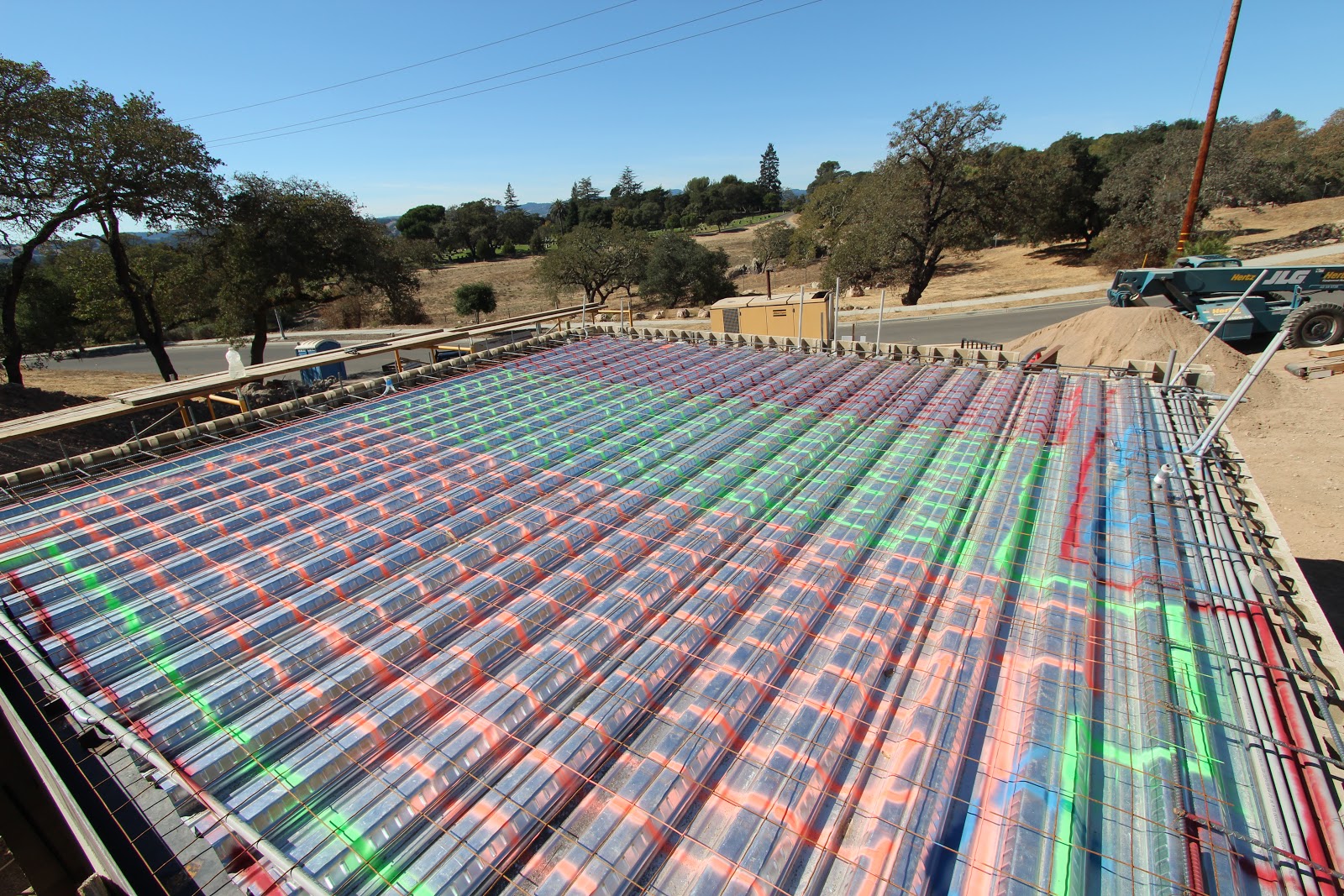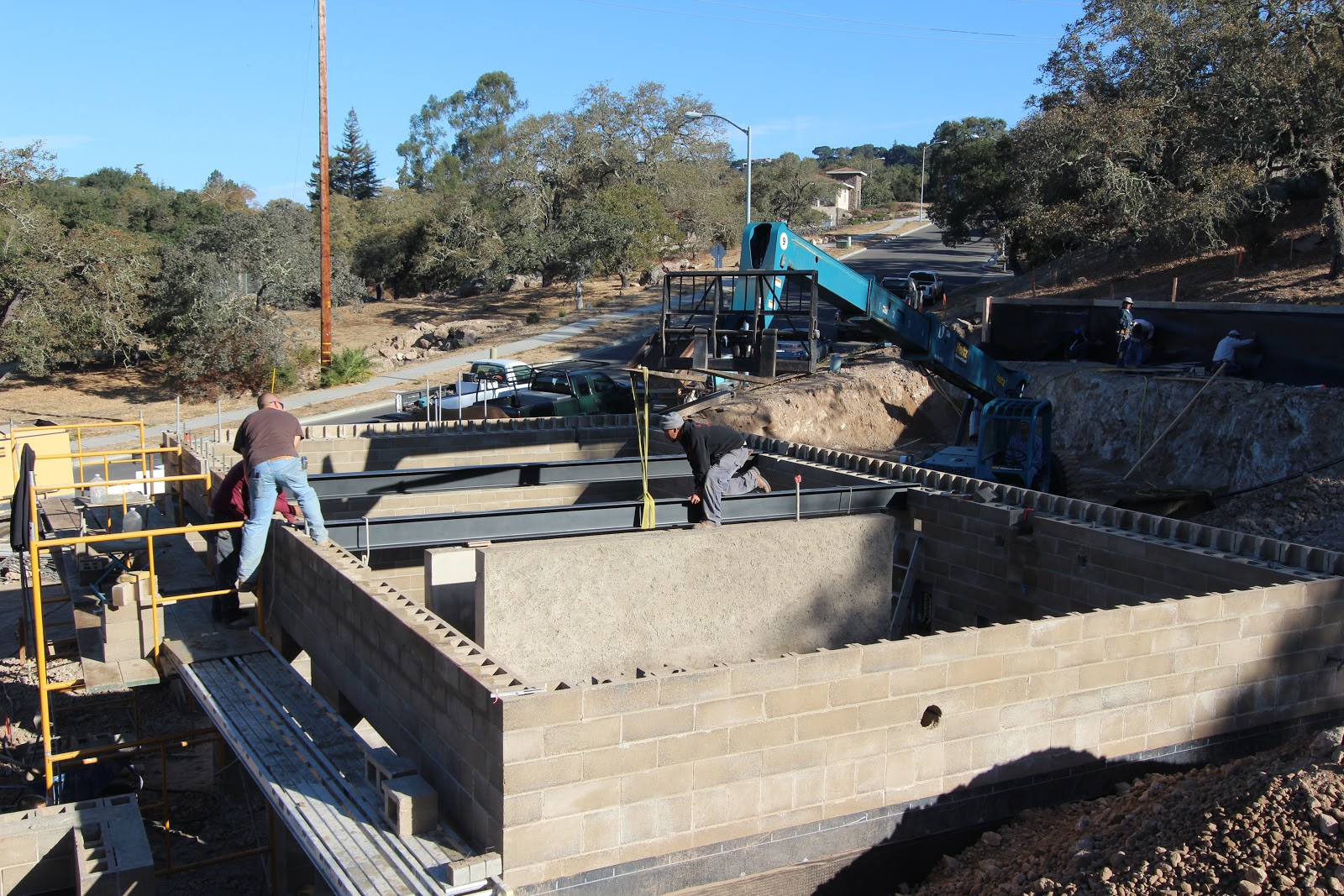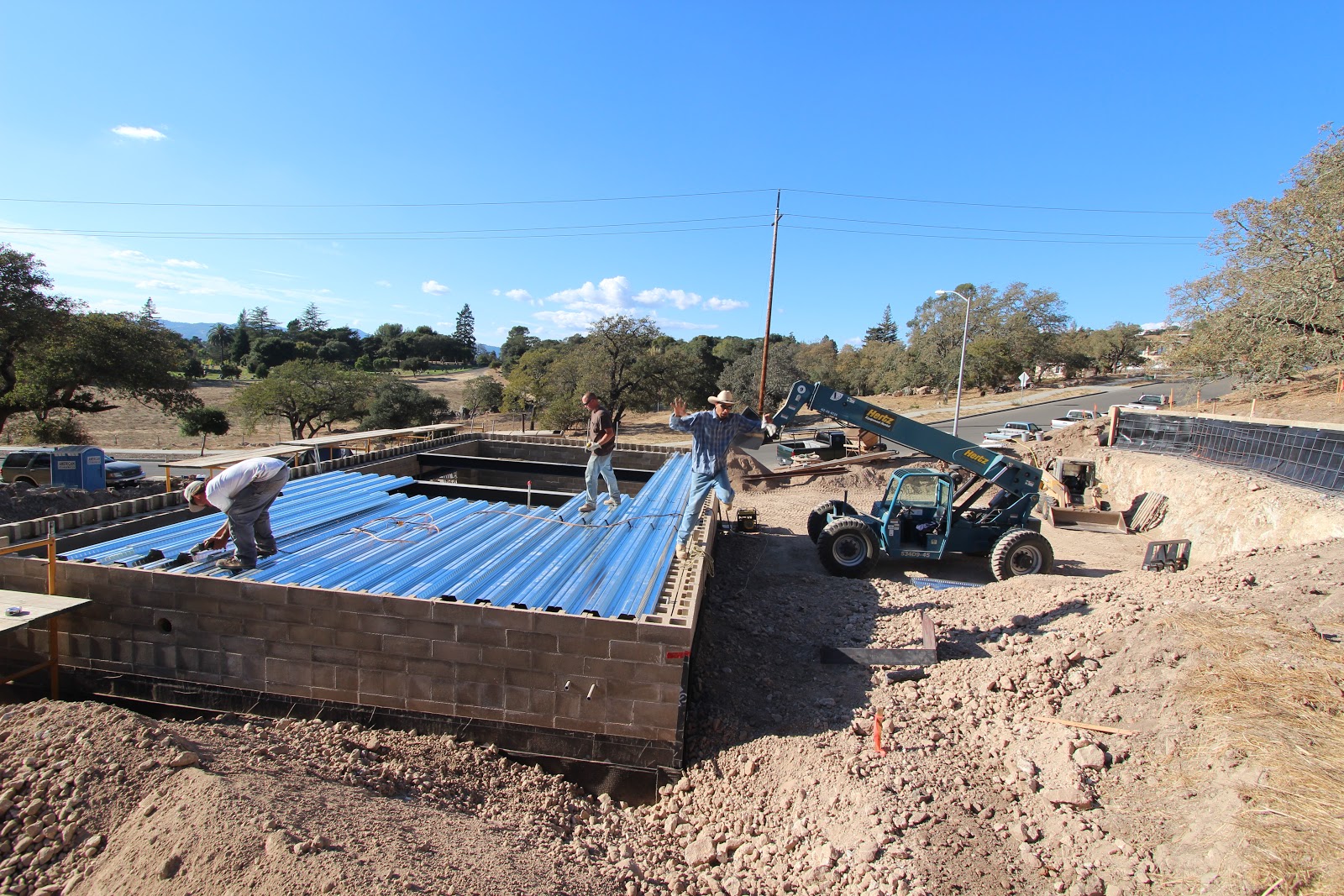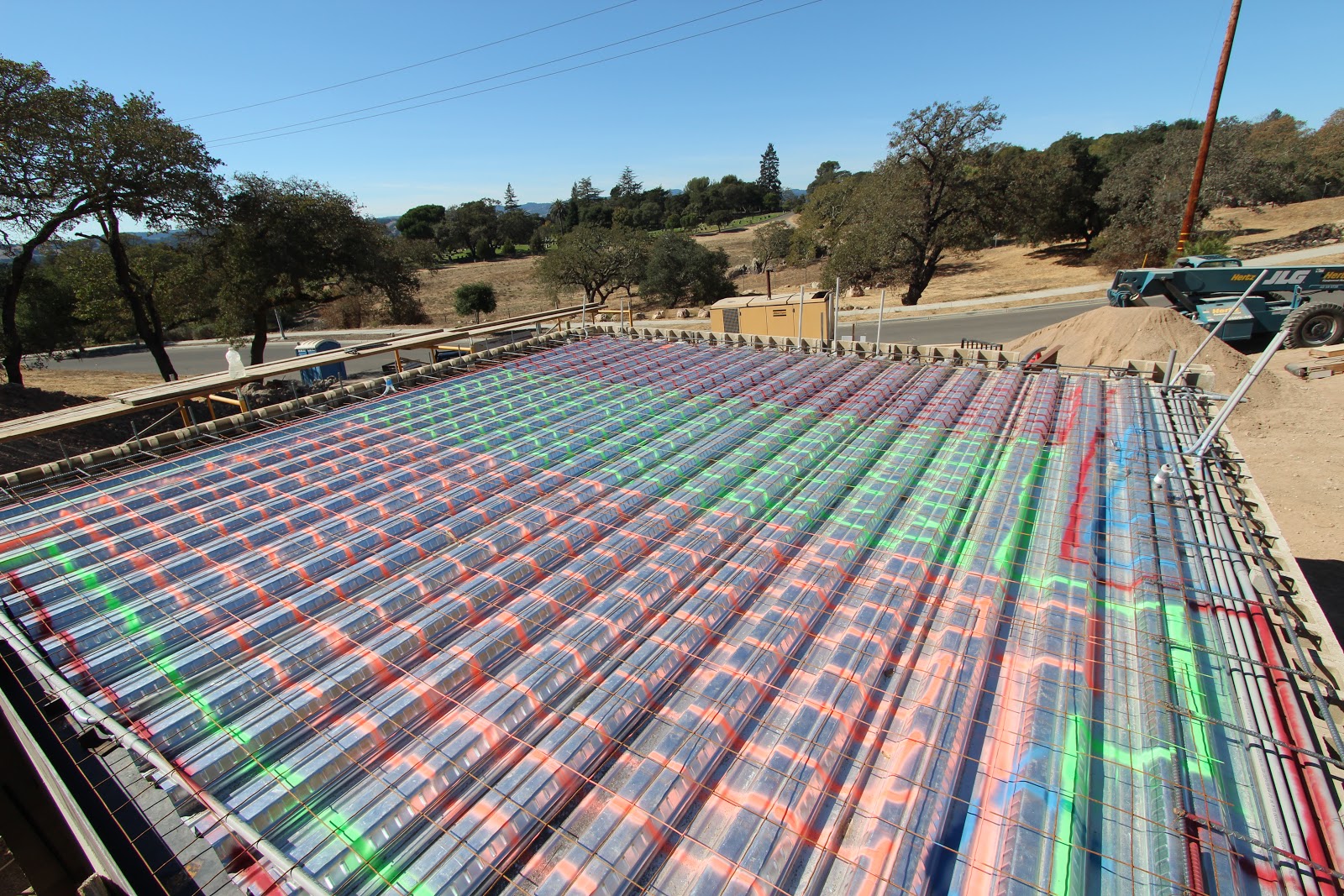 Also on Tuesday we will pour the two slabs for the garage and the mechanical room. Here are photos of the garage reinforcing with the steel beams in place and another of the mechanical room with the pan deck on. After Tuesday's pour we'll go back to work laying the rammed earth blocks.